Holidays to Tenerife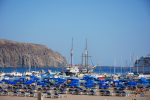 Tenerife is known as the island of eternal spring, and with the consistently good weather all year round, it is easy to see why. Holidaymakers flock to the largest of the Canary Islands at all times of the year, indulging in the melting Mediterranean sunshine.
Fly me to Tenerife
Your flight will arrive at one of the island's two airports: Tenerife South in Granadilla de Abona is the busier of the two, while Tenerife North is located in San Cristbal de La Laguna and is closer to the island's quieter towns. Both airports provide easy access to the many resorts on the island, ensuring that you can easily book a hotel close to the airport you are flying to. Where you should fly to depends heavily on what kind of holiday you are after.
The North/South divide in Tenerife makes it extremely simple to plan your holiday. If you are seeking perfect beach weather and a vibrant party scene, the South is definitely for you. The North on the other hand, is usually visited by those who are wishing for a more relaxing vacation, with the aim of total immersion in local culture. Weather in the South of Tenerife is blisteringly hot all year round, while the North is more like the eternal spring that the nickname suggests.
Natural beauty in Tenerife
One of the biggest attractions for many holidaymakers to explore during their holiday in Tenerife is surely the dormant volcano located in the centre of the island. The volcano is known as El Teide and is actually Spain's highest peak a titanic natural marvel that gives Tenerife a unique geographical quality not found in many popular holiday destinations. Although tourists are no longer permitted to enter the volcanic site, there are still cable car rides available to the top of El Teide. Once you have reached the summit of this intimidating
mountain, you can bathe in the stunning panoramic views of Tenerife from its highest point.

Few islands can boast geography as stunning as that of Tenerife, with the areas of gorgeous, barren volcanic landscape standing in complete contrast to the vistas of luscious green vegetation.
Many people consider Tenerife to be the closest Europe has to paradise, due to the varied but beautiful scenery. The variety of scenery in Tenerife ensures that holidaymakers will not have a wasted minute while enjoying their break. Whether you wish to relax on the beach, take in the breathtaking views, or even spend a week familiarizing yourself with the local bars and tavernas Tenerife truly has something for everyone wishing to get away from it all and enjoy a bargain holiday. Mountain villages are accessible by road and present something completely different for holidaymakers to explore. The coastal towns are as idyllic and picturesque as you would expect from an island perceived as a Mediterranean slice of paradise.
Book a bargain Tenerife holiday
Once you have decided what kind of Tenerife holiday you would like to enjoy, it is time to search for the perfect deal. Millions of tourists make their way to Tenerife every year, taking advantages of the cheap hotels and flights on offer.
Hotels for all budgets are available, not to mention villas for sharing and all-inclusive holiday deals.
These all-inclusive holidays are an extremely popular option for those searching for a bargain break, as all food and drink is included in the up-front price. You can easily search for your perfect holiday to Tenerife by using our search tool at the top of the page.
Book yourself a bargain flight to Tenerife and enjoy sunbathing on the sun-kissed sandy beaches.