Limenaria Holidays
Limenaria Holiday Deals
Sorry, we have no offers to display for this destination.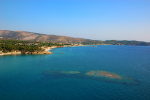 Limenaria holidays transport you to the south west coast of the beautiful island of Thassos, near the Halkidiki Peninsula in the Aegean Sea. Holidays to Limenaria can be enjoyed from April until October ,with temperatures rising to a pleasant thirty degrees at the height of the season.
Cheap Holidays To Limenaria
With a soft sandy beach and waters providing safe bathing for weak swimmers, it is no surprise that our cheap Limenaria holidays appeal to families. Holidays in Limenaria have wide popularity as there is much to see and do. A variety of water sports are offered and there are many sightseeing opportunities. The village is built on a hill and has superb views over a stunning land and seascape. With good accommodation and restaurants catering for all tastes, our low cost Limenaria holidays are sure to please. They are considered great value as our commitment to quality and service is never in doubt. If you are seeking a guarantee of good weather in an area of great natural beauty, where the warmth of the local people competes with the warmth of the sun, you may be tempted by our Limenaria holiday offers.
For further details and to view our best Limenaria holiday deals, please use the search facility.