Thassos Holidays
Thassos Holiday Deals
Sorry, we have no offers to display for this destination.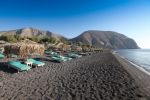 Thassos is the most northern of the Greek islands and also the least developed. Thassos holidays therefore offer an island retreat away from holiday crowds as well as the bustle of modern life. Thassos has great natural beauty being blessed with mountains and forested hills, and beaches that can compete with the best in Greece. Holidays to Thassos offer a level of tranquillity rarely found in the Greek Islands. Here you can find sparsely populated beaches and coves offering privacy as well as uncluttered waters.
Cheap Thassos Holidays
Our cheap Thassos holidays can soon transport you to an idyllic spot where you can relax in guaranteed summer sun and bathe in warm crystal waters. Holidays in Thassos are very popular with families looking for soft sand, safe waters and low-key evenings. If you are looking for sun, sea, good food and wine, as well as gentle entertainment, check out our last minute Thassos holidays and you will not be disappointed.
Search now to find our latest Thassos holiday offers.