Thassos Town Holidays
Thassos Town Holiday Deals
Sorry, we have no offers to display for this destination.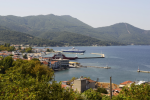 Thassos Town holidays take you to the northern coast of the island. Also known as Limenas, it is an old town surrounded by historical sites. Holidays to Thassos Town can be taken from April to October with temperatures rising to thirty at the height of the season.
Cheap Holidays To Thassos Town
With glistening sands and crystal clear waters offering safe bathing for weak swimmers, it is no surprise that our cheap Thassos Town holidays are snapped up by families. They are considered great value for money as our commitment to quality and service is never compromised. With good accommodation and restaurants satisfying the most conservative of palates, our low cost Thassos Town holidays are sure to please. With plenty of shops and a lively nightlife provided by bars and discos, our bargain Thassos Town holidays cater for all your needs. Your Thassos Town holidays can be as relaxed or as active as you wish as there are many recreational activities and sightseeing opportunities.
For further details and to view our best Thassos Town holiday deals, please use the search facility.