Skala Rachoni Holidays
Skala Rachoni Holiday Deals
Sorry, we have no offers to display for this destination.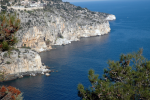 Skala Rachoni holidays transport you to a charming fishing village six miles from the principle town, Thassos, on the north west coast of the island. Holidays to Skala Rachoni can be enjoyed from April until October with temperatures rising to the low thirties at the height of the season.
Cheap Holidays To Skala Rachoni
Life is lived in the slow lane, and our cheap Skala Rachoni holidays offer the perfect antidote for busy stressful lives, where cares can be forgotten as you soak up the warmth of the sun and the equally warm welcome of the locals. Holidays in Skala Rachoni appeal mainly to families and couples. With a sun-bleached sandy beach and crystal clear waters, it comes as no surprise that our low cost Skala Rachoni holidays are snapped up by families. They offer excellent value as our commitment to quality and service is never compromised. With good accommodation and amenities, our bargain Skala Rachoni holidays are sure to satisfy. Shopping is limited but Thassos Town with it boutiques and specialist stores is only a short bus ride away. Its historic centre is worth visiting. Evenings are as peaceful and as relaxed as the days. Nothing disturbs the tranquility of the village. If you are seeking a retreat from the world with a guarantee of summer sun, you may just have found the perfect spot.
For further details and to view our best Skala Rachoni holiday deals, please use the search facility.