Cheap City Breaks to Amsterdam
Cheap City Breaks to Amsterdam
Sorry, we have no offers to display for this destination.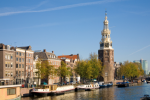 With well over four million visitors each year, it is obvious that Amsterdam holidays have wide appeal. The capital of the Netherlands, it is the country's commercial and cultural centre. Amsterdam is a charming city with its numerous waterways and its eclectic architectural styles. There are art galleries, museums, and concert halls galore. These include the Van Gogh gallery and the Anne Frank museum. Holidays to Amsterdam can be taken at any time of year and they are one of the most popular destinations for a city break. The old centre, with its baroque merchants' houses lining the canals, is very compact and the cobbled streets are easily explored on foot. Holidays in Amsterdam promise a relaxed and friendly atmosphere, great sightseeing opportunities, superb shopping, and a lively nightlife.
Cheap Amsterdam Breaks
We have a number of cheap Amsterdam holidays that offer great value as our commitment to quality and service is never in doubt. Whether you are looking for a cultural break or the experience of an alternative life style, one of our low cost Amsterdam holidays may fit the bill. Festivals of one kind or another appear to be a weekly event so there is always something different to entertain visitors. There are malls and markets to satisfy even the most avaricious shopper and the restaurants cater for all tastes. If you a seeking a city break on a limited budget, our bargain Amsterdam holidays may be just the ticket.