New York Breaks
New York Breaks
Sorry, we have no offers to display for this destination.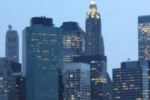 Situated on America's eastern coastline, New York offers a variety of iconic skyscrapers and landmarks to visit that are recognised throughout the globe.
This vibrant city offers a wide range of cultural activities, culinary hotspots and some of the world's best shopping.
Although a holiday here can be taken at any time of year, most people visit during the summer when the weather is warm, or in late November and December for Christmas shopping.
With so many sights and museums to tick off your list, a trip to the Big Apple calls for careful planning in order to make the most of your visit. The city has almost 30,000 acres of parkland and 14 miles of public beaches.
From the Statue of Liberty and Ellis Island to The Empire State Building and Central Park, the island of Manhattan has a variety of territory to cover.
Check out our New York breaks and you will surely find one to suit your needs.