City Breaks to Rome
City Breaks to Rome
Sorry, we have no offers to display for this destination.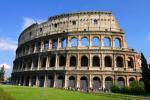 Rome holidays take you to the capital of Italy, a city that takes you through a journey back in time with its well-preserved ancient monuments, its splendid churches and museums. Although holidays to Rome can be taken at any time of year the busiest months are from Easter to October, with temperatures rising into the nineties at the height of the season. Many thousands come to hear the Pope's Easter message in St. Peter's Square in the Vatican City. Holidays in Rome appeal to couples of all ages as there is so much to see and do. The city has more than its share of well-known landmarks and sightseeing lists are long. The Colosseum and St. Peter's usually head the list.
Cheap Rome Breaks
We have a selection of cheap Rome holidays that are considered great value as our commitment to quality and service is never compromised. With comfortable accommodation and restaurants catering for all tastes, our low cost Rome holidays are sure to please. The city is also known for its exclusive boutiques and specialist shops and there is nightlife to suit every mood from romantic to party. If you have an interest in history and enjoy works of art, our bargain Rome holidays may be just the ticket.