Elounda Holidays
Elounda Holiday Deals
| Date | All Inclusive | Half Board | Self Cat. | Full Board | B&B | Room Only |
| --- | --- | --- | --- | --- | --- | --- |
| Dec 2023 | - | - | - | - | - | - |
| Jan 2024 | - | - | - | - | - | - |
| Feb 2024 | - | - | - | - | - | - |
| Mar 2024 | - | - | - | - | - | - |
| Apr 2024 | - | - | €509 | - | €574 | - |
| May 2024 | - | - | €540 | - | €943 | - |
| Jun 2024 | - | - | €506 | - | €926 | - |
| Jul 2024 | - | - | €757 | - | €1332 | - |
| Aug 2024 | - | - | €673 | - | - | - |
| Sep 2024 | - | - | - | - | - | - |
| Oct 2024 | - | - | - | - | - | - |
| Nov 2024 | - | - | - | - | - | - |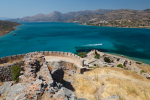 Elounda holidays takes you to the beautiful Greek island of Crete. Located on the north eastern coast eight miles from Aghios Nikolaos, it is a fairly large and lively village. The village sits in a large bay, the Gulf of Mirabello and� is centred round the pretty harbour with boats of all sizes bobbing in the Aegean. Behind the harbour is the village church with its separate bell tower. Framed by mountains, the resort is surrounded by great natural beauty and is the perfect place to relax in pleasant sunshine and watch the world go by. The gentle movement of the boats can be quite soporific and you may need a shot of caffein to restart your motor.
With low cost airlines flying to Crete from many regional airports, travel to the island has never been cheaper.
Transfers are fairly long but since you are passing through stunning scenery, the two hour drive passes quickly.
Cheap deals to Elounda.
Cheap Elounda holidays can be taken from April until October with temperatures rising into the low thirties at the height of summer. Low season sees an influx of walkers wishing to explore the rugged interior when the high temperature of summer are over, or not yet begun.
Fun for all the family.
Holidays here are very popular with families as well as couples of all ages. Next to the harbour is a small beach suitable for young children and beyond that are many rocky coves that are ideal for snorkelling. Hotels and apartment provide good accommodation and you are assured of a warm, friendly welcome and the best of service.
A wide variety of eateries cater for all tastes. Everything from fast foods to gourmet dining in available. Elounda has sufficient shopping opportunities and there is a popular Friday market where you can haggle over prices. The harbour area with its bars and small discos has the liveliest nightlife, but Elounda is certainly not the party capital of the island. Elounda holidays offer a variety of water sports to satisfy the more energetic visitor. Most holidaymakers take a trip the Spinalonga Island where, surprisingly, lepers were kept until the 1950s. It is an interesting if not a sombre trip.
Compare bargain holidays to Elounda today.
If you find a cheap Elounda holiday appealing and you wish to avoid the tiresome task of trawling through web page after web page trying to find the best deal, try our simple search facility. You'll find over three dozen travel companies competing for your custom. It is simple to use and remember, competition brings out the best bargains. Our search facility enables you to see, at a glance, the Elounda holiday that is the cheapest and the one that offers the best value for money.�
All you have to do to secure the holiday is make a phone call. To book the best deal, and to avoid disappointment,� ring today.