Crete Holidays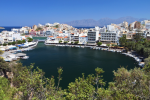 The islands of Greece are very popular with British tourists and Crete, the largest of the islands, has much to recommend it. Its topography includes mountain plateaux, valleys and plains, meadows filled with wild flowers and herbs, olive groves and vineyards, rugged cliffs and rocky coves. And don't forget its sandy beaches, possibly its main attraction. Add to this its traditional villages, towns and archaeological ruins, its sunshine and warm seas, its high standards of accommodation and tasty food, and you'll find that cheap Crete holidays are hard to beat in terms of enjoyment and satisfaction.
Cheap holidays to Crete.
Whether you are looking for total relaxation, an active holiday, or a combination of the two, we'll lead you to the Crete holiday that offers you the best value. The holiday season lasts from April until late October. The beginning and end of the season, when the temperatures are less intense, are popular with those wishing to explore the island and to sightsee. The cost of Crete holidays at these times is also lower.
What to do in Crete.
Your Crete holiday can be as relaxed or as active as you wish as the island offers a wide range of recreational activities. Some are beach centred with water sports that include wind surfing and para-gliding, fishing and dolphin spotting. Away from the beach are great hiking trails and riding and cycling tracks. Whether you're looking for a relaxed or romantic hideaway, a family friendly complex or a resort that parties into the early hours, we'll find you a cheap Crete holiday to suit.
With good accommodation and service, delightful cuisine, nightlife to satisfy all moods and shops and markets for the inevitable souvenirs, Crete holidays tick all the boxes.
If you are looking for a cheap Crete holiday you have come to the right site. As a price comparison site we search for holiday offers from almost three dozen travel companies. With such competition, you can be sure of a bargain. Our easy to use search facility will lead you to the company offering a cheap Crete holiday that is provides best value. Your trip to this wonderful island is then only a phone call away.
�