Sissi Holidays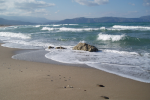 Sissi holidays transport you to a peaceful village on the north coast of Crete about forty-five kilometres east of the capital, Heraklion. It is a picturesque resort and the ideal location for a relaxing break in the sun. Holidays to Sissi can be taken from Easter until the end of October with temperatures rising from twenty to the low thirties at the height of the season. One of the attractions of holidays in Sissi is that it is not overrun by tourists and life is lived at a gentle pace.
Cheap Holidays To Sissi
If you are seeking to recharge your batteries in a scenic area with welcoming locals, take a look at our cheap Sissi holidays and you may find one to suit your budget. With water sports, hiking and cycling, our low cost Sissi holidays can be as relaxing or as energetic as you wish. If you'd like to stay in a traditional resort away from the bustling crowds, check out our Sissi holiday bargains and you could soon be on your way.
For further information and to view our latest Sissi holiday offers, please use the search facility.