Achladies Holidays
Achladies Holiday Deals
Sorry, we have no offers to display for this destination.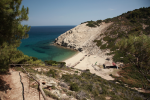 Achladies holidays take you to a delightful resort on the east coast of the Aegean island of Skiathos. Located not far from the Greek mainland, Skiathos is noted for its wonderful sandy beaches and Achladies boasts one of the best. Being only three miles fron the principle town, holidaymakers have the best of both worlds as they can relax by day and pop into Skiathos Town in the evening if they wish for lively entertainment.
Cheap Achladies Holidays.
Cheap Achladies holidays are a favourite with families with young children. The sandy beach invites the building of castles and the warm, clear water is ideal for paddling and for less confident swimmers. There is provision of water sports for the more energetic visitor.
Behind the beach are bars and tavernas so you don't have to wander far from your sun bed when you need� to quench your thirst.
When is best to travel.
Cheap Achladies holidays can be enjoyed from Easter until late October. With high standards of accommodation and service you can be sure your stay is a comfortable one. A wide choice of food is available catering for all tastes. If you are new to Greek cuisine, a good introduction is to order meze, the equivalent of Spanish tapas, and you'll be served a variety of traditional dishes. Local wines are as pleasing to the pocket as they are to the palate. If you enjoy shopping, the proximity of Skiathos Town is a bonus as among its warren of cobbled streets you'll find an abundance of small shops. Pottery, lace, leather goods and olive wood carvings are popular purchases.
If you've never been to Skiathos before, and you fancy a cheap Achladies holiday but find the thought of trawling through web page after web page looking for the best deal too arduous, try our simple search facility. You'll find over three dozen travel companies, including leading brands, competing for your custom. It is simple to use, and remember, competition brings out the best bargains. Our search facility enables you to see, at a glance, the Achladies holiday that is the cheapest, and the one that offers the best value for money. It couldn't be easier. All you have to do to secure the holiday is make a phone call.
As offers change daily, in order to avoid disappointment, you should ring today.