Troulos Holidays
Troulos Holiday Deals
Sorry, we have no offers to display for this destination.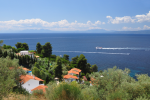 Troulos holidays take you to the beautiful southern coast of Skiathos, ten kilometres from the principle town. It is a peaceful resort ideal for those wishing to lie back and recharge their batteries. Holidays to Troulos can be taken from April until October with temperatures rising to thirty at the height of the season. With a choice of wonderful sandy beaches and safe bathing, it is unsurprising that holidays in Troulos are popular with families with small children. It is the perfect spot for the bucket and spade brigade. Troulos holidays also attract couples of all ages. Early and late season sees the arrival of walkers who enjoy hiking along the wooded trails to quaint inland villages.
Cheap holidays to Troulos
We have a number of cheap Troulos holidays which you may find tempting as they are considered great value for money. Accommodation is good, restaurants and tavernas serve food to suit most tastes and although shopping is limited, there are buses and water taxis to Skiathos Town where you can shop till you drop. Nightlife is low-key reflecting the family nature of the resort. If you are looking for a guarantee of summer sun in a stunning setting, surf through our low cost Troulos holidays and you'll surely find one to suit.
For further information and to view our latest Troulos holiday offers, please use the search facility.