Skopelos Town Holidays
Skopelos Town Holiday Deals
Sorry, we have no offers to display for this destination.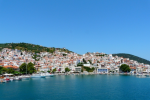 Skopelos Town holidays take you to the Sporades islands off the eastern coast of Greece. This very pretty town creeps up the hill from the harbour and because of its protected status, it has escaped from the ravages of tourist development. All accommodation must blend with the local architecture and can be no more than two storeys high. Holidays in Skopelos Town can be taken from April until October with temperatures rising to a pleasant thirty at the height of the season. Holidays to Skopelos Town appeal mainly to families and couples and those looking for a tranquil spot where they can recharge their batteries.
Cheap Holidays To Skopelos Town
We have a number of cheap Skopelos Town holidays which offer great value for money as our commitment to quality and service never wavers. The town beaches are sand and shingle and since they offer safe bathing, it comes as no surprise that our bargain Skopelos holidays are snapped up by families. There are plenty of retailers offering holiday therapy and the narrow streets of the old town are filled with craft and gift shops that are so loved by tourists. Restaurants cater for all tastes, and although there are some lively bars, nightlife here is fairly relaxed. If you are looking for a stunning base with a guarantee of summer sun, you may find our Skopelos Town holidays tempting.
For further information and to view our latest Skopelos Town holiday deals, please use the search facility.