Aghia Paraskevi Holidays
Aghia Paraskevi Holiday Deals
Sorry, we have no offers to display for this destination.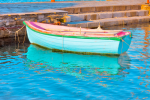 Holidays in Aghia Paraskevi take you nine kilometres west of Skiathos Town on the south coast of the island. The resort is purpose built and has a range of good accommodation from hotels to apartments. Aghia Paraskevi holidays can be taken from April to October with temperatures rising to thirty at the height of the season. The southern coast of the island is particularly beautiful and this resort is no exception. Holidays to Aghia Paraskevi are very popular with families attracted by the soft sandy beach, framed by trees and washed by the clear Aegean waters which provide safe conditions for children and less confident swimmers. An attractive marina has many berths.
Cheap Holidays to Aghia Paraskevi
If you are seeking a tranquil retreat with a guarantee of summer sun, you may be tempted by our cheap Aghia Paraskevi holidays, which are considered great value for money. The resort has limited shopping but there are buses and water taxis to transport you to nearby Skiathos Town where you will find everything you need. Restaurants and tavernas serve a diverse cuisine and cater for most tastes. With a variety of leisure activities and excursion to neighbouring islands,� our Aghia Paraskevi holiday deals much to recommend them.
For further information and to find our latest Aghia Paraskevi holiday offers, please use the search facility.