Koukounaries Holidays
Koukounaries Holiday Deals
Sorry, we have no offers to display for this destination.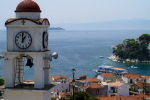 Koukounaries holidays take you to a visually stunning area of Skiathos. The resort is located thirteen kilometres from Skiathos Town on the south west of the island. It boasts one of the best beaches with soft sugary sand framed by woods of pine and olive, and lapped by crystal clear waters. Water sports are available. The beach slopes gently into the sea offering safe conditions for children and less confident swimmers and, because of this, holidays to Koukounaries are popular with families, especially those with young children. Couples of all ages are attracted by the tranquil beauty of the resort and ramblers enjoy the many woodland paths to charming inland villages.
Cheap holidays to Koukounaries
Holidays in Koukounaries can be taken from April until October with temperatures rising to thirty in high season. If you are looking for a guarantee of summer sun in a relaxed resort of great natural beauty, you may find our cheap Koukounaries holidays tempting. With a wide range of accommodation, we have Koukounaries holiday offers to suit most budgets. There are tavernas serving delicious traditional foods as well as restaurants with international menus. Nightlife is low-key with larger hotels providing in-house entertainment. Being on the western tip of the island, Koukounaries has fantastic sunsets.
For further information and to view our latest Koukounaries holiday deals, please use the search facility.