Skiathos Holidays
Skiathos Holiday Deals
Sorry, we have no offers to display for this destination.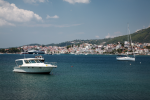 Book a cheap Skiathos holiday and you'll find yourself on a verdant island in the Aegean Sea near to the eastern coast of mainland Greece. Covered in acres of pine forest, Skiathos is one of the greenest of the Greek isles. Although small, the island has some of the best beaches in the country. In fact Koukounaries is considered to be the very best in Greece with swathes of soft sand caressed by warm, clear waters. Skiathos holidays are perfect for those wishing to relax in the guaranteed summer sun, whose idea of exertion is a dip in the sea or the pool.
Were should I say in Skiathos?
Most of the resorts are purpose built and offer high standards of accommodation and service. Skiathos Town is the only town on the island and it is here that you'll find the liveliest nightlife, comparatively speaking! If shopping is your thing, you'll be delighted by the variety of craft and souvenir stores, boutiques and specialist stores. Restaurants in the holiday villages cater for all tastes. If you are new to Greek cuisine, you are in for a treat. If you have an unadventurous palate, order meze, the Greek equivalent of tapas, and you'll be served with tasty morsels which are an ideal introduction to local menus.
Cheap Skiathos holidays.
Skiathos holidays can be enjoyed from Easter until late autumn. At the height of the summer temperatures rise into the thirties with daylong sunshine. This charming island is very popular with families and couples looking for a peaceful retreat, far removed from the bustle of twenty-first century living. If a sandy beach is important, head to the south of the island where conditions are ideal for those wielding buckets and spades. Much of the northern coast is only accessible by boat which means the beaches are sparsely populated, perfect for those seeking privacy. The larger resorts in the south offer a range of sporting activities and recreational facilities.
If a cheap Skiathos holiday appeals and you wish to avoid the tiresome task of trawling through web page after web page trying to find the best deal, try our simple search facility. You'll find over three dozen travel companies competing for your custom. It is simple to use and remember, competition brings out the best bargains. Our search facility enables you to see, at a glance, the Skiathos holiday that is the cheapest and the one that offers the best value for money. All you have to do to secure the holiday is make a phone call. To book the best deal, and to avoid disappointment, ring today.