Argostoli Holidays
Argostoli Holiday Deals
Sorry, we have no offers to display for this destination.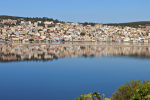 Argostoli holidays take you to Kefalonia's principle town with a population of fourteen thousand. It is a modern cosmopolitan town that suffered dreadful destruction during the 1953 earthquake. When rebuilding, no attempt was made to emulate the traditional island style. Holidays in Argostoli are popular with couples rather than families as the nearest beach is well over a mile away. The town, spreads out from its busy port and is surrounded by verdant hills. The main square is bordered by shops and pavement cafes where you can rest in the shade and people watch. Holidays to Argostoli can be taken from April until October when the temperature rises from twenty to low thirties at the height of the season.
Cheap Holidays To Argostoli
For those seeking a guarantee of summer sun, we have a surprising number of cheap Argostoli holidays that you may find tempting.
For further details and to discover our last minute Argostoli holidays please use the search facility.