Kateleios Holidays
Kateleios Holiday Deals
Sorry, we have no offers to display for this destination.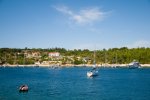 Katelios, located on the southern coast of Kefalonia, was once a sleepy fishing village which now offers a peaceful retreat from the stresses of twenty-first century living. Holidays in Katelios are all about relaxation by the sea, strolls along the water front or hiking inland to charming traditional villages. This charming resort is surrounded by fertile plains of citrus orchards and olive groves and has shores washed by crystal clear Ionian waters.
Cheap Holidays To Katelios
We have a number of cheap Katelios holidays waiting to transport you to this idyllic spot with its fine sand and shingle beach offering safe bathing for children and weak swimmers. Holidays to Katelios can be taken from early spring to late autumn with temperatures rising from low twenties to low thirties. If you are looking for a place to relax in the sun, where accommodation is good and restaurants and tavernas cater for most tastes, check out our Katelios holiday bargains and you may find one to suit.
For further information, and to find our latest Katelios holiday offers, please use the search facility.