Lassi Holidays
Lassi Holiday Deals
Sorry, we have no offers to display for this destination.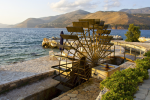 Lassi holidays take you to a purpose built resort close to Argostoli in Kefalonia. With swathes of soft sandy beaches and small coves, holidays in Lassi are very popular with families and those seeking a peaceful retreat.
Cheap Holidays To Lassi
We have a number of cheap Lassi holidays which offer great value as our commitment to quality and service never wavers. Hotel and apartment complexes provide good accommodation and restaurants and tavernas serve both traditional and international cuisine thus catering for most tastes. Holidays to Lassi can be taken from April until October when the temperature rises from twenty to the low thirties in the height of the season. Lassi holidays can be as active or as relaxing as you wish as there are many recreational pursuits both in and out of the water. If you are tired of inclement weather and wish for a guarantee of summer sun, you may find our low cost Lassi holidays appealing.
For further information and to view our latest Lassi holiday offers, please use the search facility.