Poros Holidays
Poros Holiday Deals
Sorry, we have no offers to display for this destination.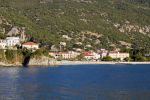 Poros holidays take you to a bustling port on the south-eastern coast of Kefalonia, twenty five miles from Argostoli, the island's principle town. Holidays to Poros can be taken from April until October with temperatures rising to a comfortable thirty at the height of the season. Largely rebuilt after the devastation of the 1953 earthquake, the resort is a charming town located in an area of great natural beauty. Holidays in Poros appeal to families and couples of all ages. They are also popular with ramblers and hill walkers as there are wonderful trails into the forested hills.
Cheap Holidays To Poros
With a soft sandy beach, gently lapped by clear Ionian waters, it is no surprise that our cheap Poros holidays are snapped up by families. They offer great value as our commitment to quality and service is never in doubt. If you are looking for a relaxed resort with a guarantee of summer sun, check out our last minute Poros holiday offers and you could soon be on your way. Nightlife here is as relaxed as the day, where evenings are spent eating and drinking under the stars. There may be one or two livelier venues but the overall atmosphere is low-key. Shopping though limited, is adequate and there are buses to Argostoli if greater choice is needed. Since our low cost Poros holidays disappear like hot cakes, book early to avoid disappointment.
For further information and to view our best Poros holiday deals, please use the search facility.