Skala Holidays
Skala Holiday Deals
Sorry, we have no offers to display for this destination.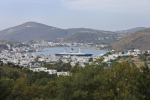 Skala holidays take you to the south east coast of Kefalonia which boasts a four kilometre sand and shingle beach. It is the largest resort on the island and it offers a wide variety of recreational facilities both in and out of the water. Holidays to Skala can be taken from early spring to late autumn with temperatures rising from low twenties to mid thirties at the height of the season.
Cheap Skala Holidays
If you are looking for a spring break or a guarantee of summer sun, we have a number of cheap Skala holidays which may be of interest. With warm Ionian waters lapping the long beach, hotels and apartments providing good accommodation, numerous restaurants, tavernas and bars serving food that caters for all tastes, holidays in Skala appeal to many. Although there are music bars and discos for those who enjoy lively evenings, most visitors enjoy strolling through the streets and the waterfront, shopping for gifts and souvenirs, and dining and drinking under the stars.
For further information, and to find our latest Skala holiday offers, please use the search facility.