Fiskardo Holidays
Fiskardo Holiday Deals
Sorry, we have no offers to display for this destination.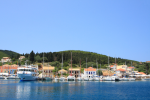 Fiskardo holidays take you to a charming town on the northern tip of Kefalonia whose Venetian architecture was untouched by the earthquake devastation suffered by most of the island in 1953. The pastel shades of the buildings, the bustling harbour and the narrow streets overflowing with small shops and pavement cafes, combine to make this a very attractive resort. Holidays to Fiskardo can be taken from spring until late October with temperatures rising to low thirties in the height of the season. With an interesting centre, a shingle beach and many small coves, good shopping and lively venues providing evening entertainment, holidays in Fiskardo are popular with a wide variety of people.
Cheap Holidays To Fiskardo
We have a surprising number of cheap Fiskardo holidays that are considered to be great value for money as our commitment to quality and service remains constant. If you are seeking a relaxing break in stunning surroundings with a guarantee of summer sun, you may be tempted by our Fiskardo holiday deals.
For further information and to discover our latest Fiskardo holiday offers, please use the search facility.