Arona Holidays
Arona Holiday Deals
| Date | All Inclusive | Half Board | Self Cat. | Full Board | B&B | Room Only |
| --- | --- | --- | --- | --- | --- | --- |
| Nov 2023 | - | - | - | - | - | - |
| Dec 2023 | - | - | €462 | - | - | - |
| Jan 2024 | - | - | €373 | - | - | - |
| Feb 2024 | - | - | €362 | - | - | - |
| Mar 2024 | - | - | €359 | - | - | - |
| Apr 2024 | - | - | €369 | - | €406 | - |
| May 2024 | - | - | €387 | - | €426 | - |
| Jun 2024 | - | - | €433 | - | €490 | - |
| Jul 2024 | - | - | €551 | - | €587 | - |
| Aug 2024 | - | - | €511 | - | - | - |
| Sep 2024 | - | - | - | - | - | - |
| Oct 2024 | - | - | - | - | - | - |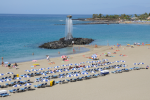 Arona holidays take you to an attractive village in the wooded hills of southern Tenerife. Arona is also a district of the island and it contains some vibrant and popular coastal resorts. Holidays to Arona can be enjoyed at any time of year as there are no unpleasant extremes of weather. Temperatures generally lie between twenty and thirty and the island is very popular with those seeking to escape the dark winter days of home. Holidays in Arona appeal mainly to couples, particularly those who enjoy walking, as families tend to choose resorts closer to the beach.
Cheap Holidays To Arona
Our cheap Arona holidays are the ideal choice for those seeking a relaxed haven away from the bustle of resorts such as Playa de las Americas. With good accommodation and restaurants catering for all tastes, our low cost Arona holidays are sure to please. Although shops are limited ,there are many opportunities for tax free shopping in the larger resorts and there are plenty of markets around the island. Evenings in the village are relaxed affairs where visitors eat and drink by the light of the moon. If you are looking for a guarantee of summer sun in a place where you can recharge your batteries, you may be tempted by our bargain Arona holidays.
For further details and to view our best Arona holiday deals, please use the search facility.