La Caleta Holidays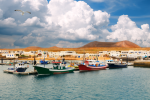 La Caleta holidays take you to a small resort lying between Playa Paraiso and Playa de las Americas on the south coast of Tenerife. Located in beautiful natural surroundings, holidays in La Caleta offer relaxation in a warm and friendly atmosphere. The rugged coastline is rocky and the small beach is shingle, but there are good beaches close by for those with small children.
Cheap Holidays To La Caleta
Holidays to La Caleta attract a broad range of visitors including golfers, as there is an excellent course nearby. With a good range of accommodation, restaurants catering for all tastes and local bars providing a low-key nightlife our cheap La Caleta holidays promise a stress-free break in the sun at any time of year. If you are looking for a tranquil base with lively entertainment close by, our low cost La Caleta holidays may be just the ticket, as the busy resort of Playa de las Americas is just around the corner.
For further details and to find our latest La Caleta holiday offers, please use the search facility.