Puerto de Santiago Holidays
Puerto de Santiago Holiday Deals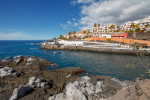 Puerto de Santiago holidays can be taken at any time of year as they offer pleasantly hot summers and warm winters. So if you are looking for a place to relax in the sunshine our range of cheap Puerto de Santiago holidays may fit the bill. Located on the western coast of Tenerife, holidays in Puerto de Santiago offer great accommodation in a quiet family resort. Holidays to Puerto de Santiago possess the necessary ingredients for a pleasant stress free break with a broad range of recreational activities to keep the family entertained.
Cheap Puerto de Santiago Holidays
Book one of our low cost Puerto de Santiago holidays and enjoy a cable car ride to the top of Mount Teide with its stunning panoramic views, or the spectacular scenery of the towering cliffs at Gigantes, and pay a very unspectacular price. You?ll be amazed at our selection of bargain Puerto de Santiago holidays.
Search now to find our last minute Puerto de Santiago holidays.