Los Gigantes Holidays
Los Gigantes Holiday Deals
| Date | All Inclusive | Half Board | Self Cat. | Full Board | B&B | Room Only |
| --- | --- | --- | --- | --- | --- | --- |
| Nov 2023 | - | - | €299 | - | €609 | - |
| Dec 2023 | - | - | €247 | - | €588 | - |
| Jan 2024 | - | - | €290 | - | €1162 | - |
| Feb 2024 | - | - | €288 | - | - | - |
| Mar 2024 | - | - | €288 | - | - | - |
| Apr 2024 | - | - | €401 | - | - | - |
| May 2024 | - | - | - | - | - | - |
| Jun 2024 | - | - | €493 | - | - | - |
| Jul 2024 | - | - | €562 | - | - | - |
| Aug 2024 | - | - | - | - | - | - |
| Sep 2024 | - | - | - | - | - | - |
| Oct 2024 | - | - | - | - | - | - |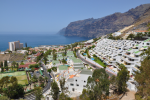 Los Gigantes is a small but popular resort on the west coast of Tenerife which attracts families, water sport enthusiasts and couples of all ages. Los Gigantes holidays offer a relaxing break in a stunning location where imposing cliffs rise out of the sea to a height of eight hundred metres. Holidays to Los Gigantes can be taken at any time as the island has long hot summers and pleasantly warm winters.
Cheap Los Gigantes Holidays
Check out our cheap Los Gigantes holidays and you'll see they are great value for money. With a volcanic beach, a public swimming pool by the harbour, and a range of leisure activities, holidays in Los Gigantes keep most people entertained. Nightlife is fairly subdued reflecting the family nature of the resort. Shopping is limited but since Playa de las Americas is just around the corner, this matters little. If you are looking for winter sun or want to look forward to a spring break, our low cost Los Gigantes holidays may be just the ticket. For more details, and to find our best Los Gigantes holiday deals, use the search facility.