Santa Cruz De Tenerife Holidays
Santa Cruz De Tenerife Holiday Deals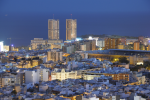 Santa Cruz De Tenerife is a busy port on the east coast of Tenerife and is the capital city of the island. Santa Cruz de Tenerife holidays offer a wide range of tourist attractions, great shopping and a lively nightlife. Holidays in Santa Cruz de Tenerife are popular with couples of all ages, groups of young singles and those with an interest in the history and the culture of the city. If you are looking for an exciting city break, or wish to escape from inclement weather, you may be tempted by our cheap Santa Cruz de Tenerife holidays. This vibrant city with its superb architecture and grand squares and parks, is very different from the relaxed coastal resorts around the island.
Cheap Holidays To Santa Cruz de Tenerife
Holidays to Santa Cruz de Tenerife can be taken throughout the year as winters are mild and summers pleasantly hot. Check out our low cost Santa de Cruz holidays and experience the excitement of this charming city.
For further information and to discover our latest Santa Cruz de Tenerife holiday offers, please use the search facility.