Athos Ouranoupolis Holidays
Athos Ouranoupolis Holiday Deals
Sorry, we have no offers to display for this destination.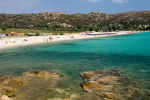 Athos Ouranoupolis holidays take you to Halkidiki in northern Greece. Lying in a stunning landscape, with the exception of young singles, holidays in Athos Ouranoupolis have wide appeal. The beaches here are of sand and shingle and are gently washed by the crystal waters of the Aegean. A variety of water sports are available. Holidays to Athos Ouranoupolis can be taken from April to October with temperatures rising to thirty at the height of the season.
Cheap Holidays To Athos Ouranoupolis
We have a number of cheap Athos Ouranoupolis holidays that may be of interest to those seeking a guarantee of summer sun in a child friendly resort. They are considered great value for money as our commitment to quality and service never wavers. With good accommodation and restaurants catering for all tastes, our low cost Athos Ouranoupolis holidays are sure to satisfy. Shopping, though limited, is adequate and supplies all of your holiday essentials. Nightlife is low-key reflecting the resort's popularity with families and couples. Being on the western side of the peninsula, the sunsets are glorious.
For further details and to view our last minute Athos Ouranoupolis holiday offers, please use the search facility.