Perea Holidays
Perea Holiday Deals
Sorry, we have no offers to display for this destination.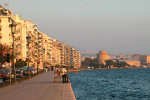 Perea holidays transport you to the outskirts of Thessaloniki in Northern Greece. Holidays in Perea can combine relaxation on a sandy beach with sightseeing in the country's second city. The resort has a good range of accommodation, a variety of restaurants and tavernas, including some excellent fish restaurants, and shopping in the nearby city is superb. Holidays to Perea can be taken from Easter until October when the temperatures range from twenty, rising to thirty at the height of the season. The long sandy beach which slopes gently into into the sea, is never overcrowded and much of the accommodation is located along its length.With the mix of seaside activities and cultural pursuits, holidays in Perea are popular with a wide range of visitors.
Cheap Holidays To Perea
We have a number of cheap Perea holidays that you may find appealing as they offer great value for money. So if you are looking for a guarantee of summer sun or an early spring break, check out our low cost Perea holidays and you may find one to suit.
For further information and to find our latest Perea holiday offers, please use the search facility.