Kassandra Hanioti Holidays
Kassandra Hanioti Holiday Deals
Sorry, we have no offers to display for this destination.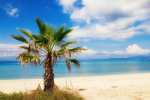 Hanioti holidays take you to an area of great natural beauty on the Eastern coast of the Kassandra peninsula in northern Greece. With a beautiful sandy beach and clear blue waters of the bay, holidays in Hanioti are popular with families, especially those with small children. The friendly, relaxed atmosphere of the resort attracts couples of all ages. Holidays to Hanioti can be taken from April until October with temperatures rising from twenty to thirty degrees in the height of the season. This purpose built resort offers an excellent range of accommodation, good restaurants and tavernas catering for all palates, and shops for holiday essentials.
Cheap Holidays To Kassandra Hanioti
If you are seeking relaxation on sunny shores, where the welcome is as warm as the weather, you may be tempted by our cheap Hanioti holidays which are considered great value. Although a range of water sports are provided by the hotels and the wooded hills surrounding the resort offer ideal walking terrain, Hanioti holidays are essentially about peace and relaxation. If this appeals, you may find our low cost Hanioti holidays are just the ticket.
For further information and to find our latest Hanioti holiday offers, please use the search facility.