Kassandra Possidi Holidays
Kassandra Possidi Holiday Deals
Sorry, we have no offers to display for this destination.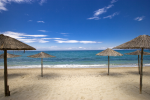 Kassandra Possidi holidays transport you to a relaxing haven on the south west coast of the Kassandra Peninsula. Holidays to Kassandra Possidi take you to a purpose built resort surrounded by pine forests.
Cheap Holidays To Kassandra Possidi
With a long stretch of golden sand gently lapped by warm clear waters, it comes as no surprise that our cheap Kassandra Possidi holidays are snapped up by families. The shallow waters here are ideal for non-swimmers. Holidays in Kassandra Possidi can be enjoyed from April until October with temperatures rising to a very pleasant thirty degrees at the height of the season. With good accommodation, our low cost Kassandra Possidi holidays are considered great value, particularly since our commitment to quality and service never falters. Apart from a few tavernas, restaurants here are rare as visitors eat in the hotel complexes. Nightlife is very low key with the hotels providing evening entertainment. Shopping is also fairly limited. If you are looking for a guarantee of summer sun in a peaceful retreat in a family friendly resort, you may be tempted by our Kassandra Possidi holiday offers. Don't delay as bargains such as these fly from the shelves.
For more information and to view our best Kassandra Possidi holiday deals, please use the search facility.