Kassandra Pefkohori Holidays
Kassandra Pefkohori Holiday Deals
Sorry, we have no offers to display for this destination.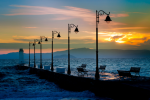 Kassandra Pefkohori holidays take you to an area of great scenic beauty on the south-eastern coast of the Kassandra Peninsula. Holidays to Kassandra Pefkohori can be taken from April until October with temperatures rising to a very pleasant thirty degrees at the height of the season.
Cheap Holidays To Kassandra Pefkohori
With a soft sandy beach and warm, clear waters providing safe conditions for paddlers and weak swimmers, it is no surprise that our cheap Kassandra Pefkohori holidays are snapped up by families. They offer great value as our commitment to quality and service is never compromised by price. Holidays in Kassandra Pefkohori appeal to couples of all ages as well as to families as the atmosphere here is peaceful and relaxed. With good accommodation and restaurants catering for all tastes our low cost Kassandra Pefkohori holidays are sure to please. The delightful old town has narrow cobbled streets filled with shrubs and flowers which open into pretty tree lined squares, where pavement cafes invite you relax and watch the world go by. Our bargain Kassandra Pefkohori holidays offer an antidote to the stresses of twenty-first century living.
For further details and to view our best Kassandra Pefkohori holiday deals, please use the search facility.