Cala Bona Holidays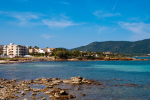 Cala Bona is one of Majorca's most popular family resorts.
Unlike many of the island's resorts, it is not purpose-built but has grown out of very humble fishing roots.
This one time village, lying on the east coast, has now a thriving tourist centre and yet it manages to retain its traditional charm within its old centre and its attractive harbour.
Great choice for family holidays.
The relaxed atmosphere and of course its wonderful sandy beaches, make it a haven for families with young children and with couples of all ages. It is easy to see why cheap Cala Bona holidays are so popular. As the resort lies very close to the purpose-built Cala Millor, a much more gregarious tourist centre with a lively nightlife, it means that those who wish to relax by day and dance till dawn can have the best of both worlds. Being only a twenty minute walk away, visitors can enjoy the combined recreational facilities of both resorts. Water sports are very popular.
If you are looking for a guarantee of summer sunshine where the pace of life is slow; where the food is good and the wine flows; where the beaches are soft and sandy and gently lapped by the warm, clear waters of the Mediterranean; where the people offer a warm welcome; a cheap Cala Bona holiday will fit the bill.
Eating and drinking.
Cala Bona has a wide range of accommodation that caters for all budgets. Standards are high and service is very good. The modern resort centre which is traffic-free is filled with restaurants of all descriptions serving every type of menu. Whatever you fancy, you'll find an eatery that pleases your taste buds. Likewise, there are plenty of shops but if you like markets, don't miss Mondays in Manacor. A variety of tourist attractions include the spectacular Drach's Caves, and a zoo.
If you fancy a Cala Bona holiday but find the task of trawling through web page after web page looking for the best deal more than a little off-putting, try our simple search facility. You'll find over three dozen travel companies, including leading brands, competing for your custom. It is simple to use, and remember, competition brings out the best bargains.
Our search facility enables you to see, at a glance, the Cala Bona holiday that is the cheapest, and the one that offers the best value for money.
It couldn't be easier. All you have to do to secure the holiday is make a phone call. As offers change daily, in order to avoid disappointment, you should ring today.