Playa De Palma Holidays
Playa De Palma Holiday Deals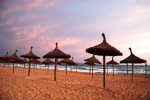 Playa de Palma holidays take you to a resort ten kilometres from the principle town of Palma, and� sandwiched between C'an Pastilla and El Arenal. It lies very close to the airport and benefits from a short transfer time. Holidays to Playa de Palma can be enjoyed from April until October when temperatures rise from twenty to the low thirties at the height of the season. This relaxed resort has a good sandy beach, washed by the clear warm waters of the bay, providing safe conditions for children and less confident swimmers. Unsurprisingly holidays in Playa de Palma are very popular with families. Water sports are available from the beach. Mini train runs between the three resorts so visitors have a wider choice of amenities. Hotels and apartments provide a good range of accommodation and because of this our cheap Playa de Palma holidays are considered great value. There is limited shopping but since Palma, with its plethora of shops, is only a short bus ride away, this is of no concern.
Cheap holidays to Playa de Palma
Our low cost Playa de Palma holidays will leave you with euros to spare for a little retail therapy. The choice of cuisine is wide-ranging and caters for all tastes. Although there are no nightclubs, bars and discos provide a lively nightlife. If you are seeking a guarantee of summer sun in a pleasant resort, you may be tempted by our Playa de Palma holiday offers.
For further information and to view our best Playa de Palma holiday deals, please use the search facility.