C'an Pastilla Holidays
C'an Pastilla Holiday Deals
| Date | All Inclusive | Half Board | Self Cat. | Full Board | B&B | Room Only |
| --- | --- | --- | --- | --- | --- | --- |
| Nov 2023 | - | - | - | - | - | - |
| Dec 2023 | - | - | - | - | - | - |
| Jan 2024 | - | - | - | - | - | - |
| Feb 2024 | - | - | - | - | - | - |
| Mar 2024 | €378 | - | - | - | - | - |
| Apr 2024 | €310 | - | - | - | - | - |
| May 2024 | €382 | - | - | - | - | - |
| Jun 2024 | €495 | - | - | - | - | - |
| Jul 2024 | €572 | - | - | - | - | - |
| Aug 2024 | €563 | - | - | - | - | - |
| Sep 2024 | - | - | - | - | - | - |
| Oct 2024 | - | - | - | - | - | - |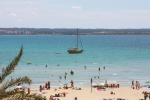 Ca'n Pastilla is a relaxed resort close to the airport on the south east coast of Majorca. Located on the western edges of Playa de Palma, the resort has a fine sandy beach gently lapped by clear, warm Mediterranean waters. A relaxed resort, it is the perfect spot for those looking for a beach holiday where they can wind down and recharge their batteries.
Find a cheap holiday to Ca'n Pastilla.
Cheap Ca'n Pastilla holidays are snapped up by families and are also popular with couples. The season begins in April and closes at the end of October during which time the temperature rises from the twenties into the thirties.
With low cost airlines operating from many regional airports and with both short flights and transfers, you can breakfast in sun-starved Britain and enjoy a tapas lunch under cloudless skies.
The ease of journey is an added attraction for those travelling with babies and toddlers.
Ca'n Pastilla is a very family friendly resort with wonderful beaches and shallow water that is ideal for paddling and for novice swimmers. Behind the beach is a palm lined promenade with bars, small restaurants and shops so you don't have far to go for refreshments.The promenade stretches to the neighbouring resort of Arenal.
Accommodation to suit all budgets.
The standards of both accommodation and service are high and there are hotels and apartments wit tariffs to suit most budgets. Never dismiss the all-inclusive option as being too expensive as when travelling with children it can offer good value. You can otherwise spend a fortune buying snacks and drinks for your ever hungry and thirsty offspring. C'an Pastilla's many restaurants cater for all tastes with British style pubs and bars alongside traditional fish restaurants. The shops and two markets provide for all your holiday essentials as well as gifts and souvenirs. Nightlife reflects the resort's family atmosphere and is very low key. There are a range of recreational activities and tourist attractions to entertain you if you should tire of the beach. The huge water park and the crazy golf course are the most popular of these.
Search for your perfect holiday today.
If a C'an Pastilla holiday appeals, but the thought of trawling through web page after web page looking for the best deal a little off-putting, try our simple search facility. You'll find over three dozen travel companies, including leading brands, competing for your custom. It is simple to use, and remember, competition brings out the best bargains.
Our search facility enables you to see, at a glance, the C'n Pastilla holiday that is the cheapest, and the one that offers the best value for money.
It couldn't be easier. All you have to do to secure the holiday is make a phone call. As offers change daily, in order to avoid disappointment, you should ring today.