Cala Mandia Holidays
Cala Mandia Holiday Deals
| Date | All Inclusive | Half Board | Self Cat. | Full Board | B&B | Room Only |
| --- | --- | --- | --- | --- | --- | --- |
| Nov 2023 | - | - | - | - | - | - |
| Dec 2023 | - | - | - | - | - | - |
| Jan 2024 | - | - | - | - | - | - |
| Feb 2024 | - | - | - | - | - | - |
| Mar 2024 | - | - | - | - | - | - |
| Apr 2024 | €455 | €368 | - | - | - | - |
| May 2024 | - | - | - | - | - | - |
| Jun 2024 | - | - | - | - | - | - |
| Jul 2024 | - | - | - | - | - | - |
| Aug 2024 | - | - | - | - | - | - |
| Sep 2024 | - | - | - | - | - | - |
| Oct 2024 | - | - | - | - | - | - |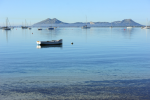 Cala Mandia holidays offer relaxation in a purpose built resort on the east coast of Majorca. Located in an inlet, the long sandy beach is well sheltered and offers safe bathing for children and less confident swimmers. Holidays in Cala Mandia are very popular with families and older couples looking for a peaceful break by the sea. Holidays to Cala Mandia can be taken from April to the end of October with temperatures rising from twenty degrees to thirty at the height of the season. Hotels and apartments provide good, modern accommodation so our cheap Cala Mandia holidays are considered great value for money. Although there are no water sports from the beach, neighbouring resorts provide adequate amenities and it is only fifteen kilometres to the nearest eighteen hole golf course. The pace of life here is slow and nightlife is very low-key.
Cheap holidays to Cala Mandia
Our low cost Cala Mandia holidays appeal to those seeking respite from unreliable weather and the opportunity to unwind in a pleasant landscape. Restaurants and bars serve both traditional and international food and� shops provide essentials as well as holiday gifts and souvenirs. Since our Cala Mandia holiday offers fly from the shelves, you'll need to book early in order to avoid disappointment.
For further information, and to view our best Cala Mandia holiday deals, please use the search facility.