Calas De Mallorca Holidays
Calas De Mallorca Holiday Deals
| Date | All Inclusive | Half Board | Self Cat. | Full Board | B&B | Room Only |
| --- | --- | --- | --- | --- | --- | --- |
| Nov 2023 | - | - | - | - | - | - |
| Dec 2023 | - | - | - | - | - | - |
| Jan 2024 | - | - | - | - | - | - |
| Feb 2024 | - | - | - | - | - | - |
| Mar 2024 | - | - | - | - | - | - |
| Apr 2024 | €247 | - | - | - | - | - |
| May 2024 | €292 | - | - | - | - | - |
| Jun 2024 | €365 | - | - | - | - | - |
| Jul 2024 | €484 | - | - | - | - | - |
| Aug 2024 | €486 | - | - | - | - | - |
| Sep 2024 | - | - | - | - | - | - |
| Oct 2024 | - | - | - | - | - | - |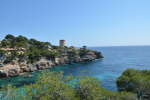 Calas de Mallorca holidays take you to a purpose built resort on the east coast of Majorca. Very popular with families and couples, the resort has a choice of sandy beaches that are connected by a road train. The resort is built on the top of cliffs affording wonderful views of the seascape.
If you are seeking a relaxed atmosphere where the sun is guaranteed to shine and where the beaches are sandy, a cheap Calas de Mallorca holiday may fit the bill.
Fly from your local airport.
With low cost airlines flying from many regional airports and with a short flight time, you can be enjoying blue skies and hot sunshine in next to no time. The season lasts from April until October with temperatures rising into the low thirties in the height of summer.
A range of accommodation provides for all financial situations. The hotels and apartments reach high standards of comfort and service. If you are travelling with children it may pay you to consider Calas de Mallorca all-inclusive holidays. It is easier to stay within budget if you are not having to constantly pay for drinks and snacks.
Family friendly resort.
Restaurants cater well for all tastes with traditional fare, fast foods and international dishes. Nightlife is almost as relaxed by night as it is by day with much of the evening entertainment provided by the larger hotels. Shopping is fairly limited but if you enjoy markets, you'll find good ones in Felanitx and Manacor.
The resort provides a range of water sports and a number of interesting tourist attractions.
In order to do justice to the island, car hire is recommended. One of the most popular east coast attractions is the Caves of Drach, an awe-inspiring experience.
Search Today.
If a Calas de Mallorca holiday appeals but you find the thought of trawling through web page after web page looking for the best deal a little daunting, try our simple search facility. You'll find over three dozen travel companies, including leading brands, competing for your custom. It is simple to use, and remember, competition brings out the best bargains.
Our search facility enables you to see, at a glance, the Calas de Mallorca holiday that is the cheapest, and the one that offers the best value for money.
It couldn't be easier. All you have to do to secure the holiday is make a phone call. As offers change daily, in order to avoid disappointment, you should ring today.