Cala Ratjada Holidays
Cala Ratjada Holiday Deals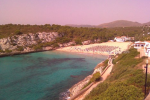 Cala Ratjada holidays take you to a one-time fishing village in the north east of Majorca. The north east of the island has a rugged, rocky coastline indented by sheltered coves which often have a pleasant sandy shore. Cala Ratjada has wide popularity because although it is fairly relaxed, it offers a vibrant nightlife. Families come for the beaches in the area where the water is warm and clear. Care must be taken of young paddlers and less confident swimmers as the sand slopes quite steeply into the sea. There are water sports for the more energetic visitor, and if you want a change from the beach, there are historic inland villages waiting to be explored. Although Cala Ratjada has a whole host of amenities which satisfy most needs, if you wish to make the most of your trip and see more of this beautiful island, car hire is recommended.
Fly from your local airport.
Low cost airlines fly from a large number of regional airports making the journey to Majorca less arduous and certainly cheaper.
With short flight times you can be lazing under cloudless skies in next to no time.
Transfers from Palma take an hour and a quarter. The holiday season extends from April until October with temperatures reaching the low thirties in the height of summer. Early and late season when the sun is less-strong, is the ideal time for those who enjoy walking along the trails through a stunning landscape.
Cheap Cala Ratjada holidays.
Cheap Cala Ratjada holidays are great value for money as the accommodation is very good and service is excellent. The many bars and restaurants provide for all tastes and budgets. The more conservative palate can easily find familiar food. Shops are more than adequate for all your holiday needs and there is a market each Saturday. The evenings bring a change of atmosphere with lively bars, discos and clubs providing entertainment well into the night.
Compare 1000's of holidays today.
If you want to travel to Cala Ratjada, but hate the thought of trawling through web page after web page looking for the best deal, try our simple search facility. You'll find over three dozen travel companies, including leading brands, competing for your custom. It is simple to use, and remember, competition brings out the best bargains.
Our search facility enables you to see, at a glance, the Cala Ratjade holiday that is the cheapest, and the one that offers the best value for money.
It couldn't be easier. All you have to do to secure the holiday is make a phone call. As offers change daily, in order to avoid disappointment, you should ring today.