Cala Gracio Holidays
Cala Gracio Holiday Deals
Sorry, we have no offers to display for this destination.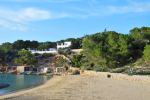 Cala Gracio holidays take you to an oasis of peace and tranquility which, given its location, is rather surprising as it is only a short stroll away from San AntonioTown, Europe's undisputed party capital. The resort has two soft sandy beaches which lie sheltered in deep coves. It is a pretty area, with the dark green of the bushes growing above the water line contrasting sharply with the bright turquoise waters.� The combination of sand and warm shallow water attracts families and the relaxed atmosphere draws couples of all ages. The proximity of San Antonio is perfect for those for whom the ideal holiday is finding a quiet spot in the sun followed by high octane entertainment from dusk to dawn.
When to travel?
The season lasts from April until October with temperatures rising to the low thirties in the height of the summer. Low cost airlines fly from many regional airports and flight times are short. Set off at breakfast and you'll be in time for your al fresco lunch.
Hotels and apartments offer good quality accommodation that provides for all budgets. A warm welcome is always given and the standard of service is excellent as nothing is too much trouble. Restaurants cater for all tastes and being so close to San Antonio, your choice is vast. The same is true of shopping. Although the resort itself supplies holiday essentials, for a real shopping experience head for San Antonio or take a bus to Ibiza Town. Be sure to visit the latter as its historic centre, its castle and cathedral are all worth seeing.
Search today.
If you are looking for a quiet place to recharge your batteries but want a little evening excitement a cheap Cala Gracio holiday may fit the bill. If the thought of this is appealing but you baulk at the task of trawling through web page after web page looking for the best deals, try our simple search facility. You'll find over three dozen travel companies, including leading brands, competing for your custom. It is simple to use, and remember, competition brings out the best bargains. Our search facility enables you to see, at a glance, the Cala Gracio holiday that is the cheapest, and the one that offers the best value for money. It couldn't be easier. All you have to do to secure the holiday is make a phone call. As offers change daily, in order to avoid disappointment, you should ring today.
�