Cala Llonga Holidays
Cala Llonga Holiday Deals
| Date | All Inclusive | Half Board | Self Cat. | Full Board | B&B | Room Only |
| --- | --- | --- | --- | --- | --- | --- |
| Nov 2023 | - | - | - | - | - | - |
| Dec 2023 | - | - | - | - | - | - |
| Jan 2024 | - | - | - | - | - | - |
| Feb 2024 | - | - | - | - | - | - |
| Mar 2024 | - | - | - | - | - | - |
| Apr 2024 | - | €690 | - | - | €727 | - |
| May 2024 | - | €828 | - | - | €260 | - |
| Jun 2024 | - | €894 | - | - | €348 | - |
| Jul 2024 | - | - | - | - | €410 | - |
| Aug 2024 | - | - | - | - | €393 | - |
| Sep 2024 | - | - | - | - | - | - |
| Oct 2024 | - | - | - | - | - | - |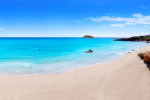 Although Ibiza has a reputation as a party island and is a favourite with groups of young adults, its resorts are not all the 'high octane party through the night variety'. Cala Llonga holidays are all about relaxation. On the east coast, only ten miles from the lively Ibiza Town and even closer to Santa Eulalia, Cala Llonga is an oasis of peace and relaxation.
Sheltered by verdant hills, its soft, sandy beaches and its warm clear waters act like a magnet and attract very many British holidaymakers each year.
With a guarantee of sunshine and with a season that lasts from the end of April to the beginning of October, it's the perfect place to recharge your batteries. You'll find the pace of life is slow, leaving you to appreciate the finer things in life; the wonderful scenery; the warmth and friendliness of the islanders; the good food and wine. That's what holidays are all about and it's only a two hour flight from regional airports around Britain.
Cheap Cala Llonga Holidays.
Cheap Cala Llonga holidays are extremely popular with families and couples. Being close to the only course on the island many golfers also holiday here. The sandy beach and the warm shallow waters are the main ingredients of a happy break with young children, and Cala Llonga has them by the bucketful.
A range of hotels and apartments provide good accommodation that caters for most budgets. Standards of comfort and service are excellent. There are restaurants serving a diverse cuisine thereby satisfying all tastes. While the shops provide for essentials, for a great shopping experience head for Ibiza Town where there are shops galore. Cala Llonga nightlife reflects the resort's clientele and is almost as quiet as it is by day. If you want to party take yourself along to the principle town or to neighbouring Santa Eulalia.
Search today.
If you find a Cala Llonga holiday appealing but baulk at the task of trawling through web page after web page looking for the best deals, try our simple search facility. You'll find over three dozen travel companies, including leading brands, competing for your custom. It is simple to use, and remember, competition brings out the best bargains. Our search facility enables you to see, at a glance, the Cala Llonga holiday that is the cheapest, and the one that offers the best value for money. It couldn't be easier. All you have to do to secure the holiday is make a phone call.
As offers change daily, in order to avoid disappointment, you should ring today.