Cala San Vincente Holidays
Cala San Vincente Holiday Deals
Sorry, we have no offers to display for this destination.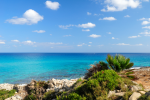 Cala San Vicente holidays are a far cry from most of Majorca's resorts. Located on the north west coast Cala San Vicente, enables you to experience the traditional Majorcan way of life. Although tourism is well-developed here, the village remains a fishing port with a busy harbour. The northern coast is very different from the south of the island, with a wild rugged landscape of rocky cliffs dotted with sheltered coves. Cala san Vicente has three of these coves which have beaches of fine sand sloping gently into clear waters, ideal for those wielding buckets and spades. The warm, shallow water is perfect for young paddlers and novice swimmers needing to gain confidence.
When is best to travel?
Low cost airlines departing from regional airports make for a trouble-free journey as well as a cheaper one.
The holiday season is from April until October with temperatures rising into the low thirties during the height of summer.
If you want a place in the sun, where the accent is on relaxation and where you are assured of a warm welcome, a cheap Cala San Vicente may be just the ticket.
This small resort offers good accommodation with tariffs to suit most budgets. Its restaurants serve enough variety to satisfy most tastes. Having a harbour where the marine harvest is landed daily, fish is a prominent feature on menus. Simply cooked, it is delicious. Cala San Vicente has sufficient shops to supply holiday essentials. A wider variety of goods is found in the pretty inland town of Pollensa. Nightlife in the resort is very low key with the same peaceful ambience that exists during daylight hours. Those seeking livelier evenings can pop along to the more vibrant resort of Alcudia.
Compare cheap Cala San Vicente holidays today.
If� you fancy a sunny break in Cala San Vicente but find the thought of trawling through web page after web page looking for the best deal a little daunting, try our simple search facility. You'll find over three dozen travel companies, including leading brands, competing for your custom. It is simple to use, and remember, competition brings out the best bargains.
Our search facility enables you to see, at a glance, the Cala San Vicente holiday that is the cheapest, and the one that offers the best value for money.
It couldn't be easier. All you have to do to secure the holiday is make a phone call. As offers change daily, in order to avoid disappointment, you should ring today.