San Miguel Holidays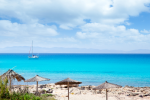 Puerto San Miguel is located in a wild and wonderful lanscape on the northern coast of Ibiza. Puerto San Miguel holidays are much quieter than their southern counterparts, offering relaxation on a sandy beach sheltered by tall cliffs. It is a warm and friendly resort favoured by families and couples of all ages. Holidays to Puerto San Miguel can be taken from early April until late October when the temperature ranges from the twenties to low thirties. Enjoy a break here surrounded by forested hills and a rugged coastline, where life is lived in the slow lane, and return home with batteries charged.
Cheap San Miguel Holidays
Holidays in Puerto San Miguel are as relaxed by night as they are by day reflecting the family nature of the resort. Check out our cheap Puerto San Miguel holidays and you'll be surprised at the choice. They are particularly good value when booking for families. With good hotels and apartments, a wide range of restaurants and pubs and a variety recreational activities both in and out of the water, our Puerto San Miguel deals are sure to satisfy.
For further information, and to find our last minute Puerto San Miguel offers, please use the search facility.