Cala Tarida Holidays
Cala Tarida Holiday Deals
| Date | All Inclusive | Half Board | Self Cat. | Full Board | B&B | Room Only |
| --- | --- | --- | --- | --- | --- | --- |
| Nov 2023 | - | - | - | - | - | - |
| Dec 2023 | - | - | - | - | - | - |
| Jan 2024 | - | - | - | - | - | - |
| Feb 2024 | - | - | - | - | - | - |
| Mar 2024 | - | - | - | - | - | - |
| Apr 2024 | - | - | - | - | - | - |
| May 2024 | €393 | €368 | - | - | €336 | - |
| Jun 2024 | €498 | €698 | - | - | €640 | - |
| Jul 2024 | €606 | €579 | - | - | - | - |
| Aug 2024 | €528 | €501 | - | - | - | - |
| Sep 2024 | - | - | - | - | - | - |
| Oct 2024 | - | - | - | - | - | - |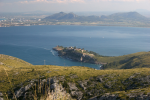 Cala Tarida holidays transport you to the sunny shores of Ibiza, close to San Antonio. It is a peaceful resort conducive to relaxation. The soft sandy beach is a great draw for young families with the soft sand giving way to shallow calm waters. It is the perfect spot for young children wishing to paddle and for novice swimmers who need to gain confidence. If you are looking for a relaxed seaside resort where the sun is guaranteed to shine, where the beach is soft and sun-bleached and the water is warm and crystal clear, a cheap Cala Tarida holiday may fit the bill.
Short flight time.
Many low cost airlines fly to Ibiza from regional airports so travel to the island has never been cheaper or the journey easier to make. Take an early flight and you can breakfast under the heavy skies of Britain and be enjoying tapas and sangria while basking in hot sunshine by lunchtime.
The holiday season lasts from April through to the end of October with temperatures rising into the low thirties during the height of summer.
Cala Tarida holidays have hotels, apartments and villas providing high standards of accommodation and service is excellent. Most of the hotels are along the waterfront and close to the beach. Although there are a number of restaurants serving a variety of menu that caters for most tastes, if you would like a little more variety go to neighbouring San Antonio where you will be spoilt for choice. As with restaurants, shopping is rather limited. This matters little as neighbouring San Antonio has a plethora of retail opportunities. Nightlife in the resort is as relaxed as the days but again, those looking for lively evenings can pop along to the resort's gregarious neighbour with its wild reputation, and dance the night away.�
Compare discount holidays to Cala Tarida today.
Looking for a sunny break in Cala Tarida but find the thought of trawling through web page after web page looking for the best deal a little daunting, try our simple search facility. You'll find over three dozen travel companies, including leading brands, competing for your custom. It is simple to use, and remember, competition brings out the best bargains. Our search facility enables you to see, at a glance, the Cala Tarida holiday that is the cheapest, and the one that offers the best value for money. It couldn't be easier. All you have to do to secure the holiday is make a phone call
. As offers change daily, in order to avoid disappointment, you should ring today.