Santa Eulalia Holidays
Santa Eulalia Holiday Deals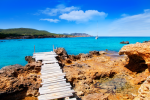 Santa Eulalia holidays take you to the east coast of Ibiza, north of the capital and only twenty kilometres from the airport. It is the island's third largest town and has much more to offer visitors than a purpose built resort. Holidays to Santa Eulalia attract families, particularly those with small children, and couples of all ages. The long, broad, sandy beach slopes gently in the the clear warm water, ideal for weak swimmers, and there are water sports for the more energetic visitor. Holidays in Santa Eulalia offer a relaxing break in friendly surroundings. A very attractive palm-lined promenade, complete with fountain and small gardens, borders the beach. If you fancy a change of scene, fFerries leave the port regularly for various resorts including Ibiza Town. There is also a service to the beautiful island of Formentera with its gleaming white sands and brilliant blue waters.
Cheap Santa Eulalia Holidays
We have a number of cheap Santa Eulalia holidays which will leave you feeling relaxed and revived without leaving too large a hole in your wallet. So if you are looking for good accommodation, tasty cuisine, a relaxed nightlife and good shopping check out our Santa Eulalia holidays and you may find one to suit. For further information, and to view our latest Santa Eulalia holiday offers, use the search facility.