Binisafua Holidays
Binisafua Holiday Deals
Sorry, we have no offers to display for this destination.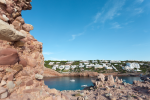 Binisafua holidays take you to a quiet resort, a few kilometres from Mahon, on the south coast of Menorca. Lying round a rocky cove it has no high rise accommodation and resembles a residential area with villas and pools. Holidays to Binisafua can be taken from April to October with temperatures rising to the low thirties at the height of the season. If you wish to visit neighbouring beaches and enjoy the facilities in other resorts, car hire would be advantageous. Holidays in Binisafua appeal to families, and couples who want to spend their days relaxing in the warmth of the sun. There is a good sandy beach in neighbouring Binibeca which offers safe conditions for children.
Cheap Holidays To Binisafua
We have a number of cheap Binisafua holidays that are considered good value as our commitment to quality and service is never in doubt. Accommodation is first class and restaurants cater for all tastes. There are shops for essentials and if more are needed, Mahon is only a short distance away. Nightlife is very low-key reflecting the resort's popularity with couples and families. If you are looking for a guarantee of summer heat in a relaxed and tasteful resort, you may be tempted by our low cost Binisafua holidays.
For further details and to find our best Binisafua holiday deals, please use the search facility.