Mahon Holidays
Mahon Holiday Deals
| Date | All Inclusive | Half Board | Self Cat. | Full Board | B&B | Room Only |
| --- | --- | --- | --- | --- | --- | --- |
| Nov 2023 | - | - | - | - | - | - |
| Dec 2023 | - | - | - | - | - | - |
| Jan 2024 | - | - | - | - | - | - |
| Feb 2024 | - | - | - | - | - | - |
| Mar 2024 | - | - | - | - | - | - |
| Apr 2024 | - | - | - | - | - | - |
| May 2024 | - | €990 | - | - | €745 | - |
| Jun 2024 | - | €798 | - | - | €592 | - |
| Jul 2024 | - | - | - | - | - | - |
| Aug 2024 | - | - | - | - | - | - |
| Sep 2024 | - | - | - | - | - | - |
| Oct 2024 | - | - | - | - | - | - |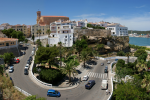 Holidays to Mahon, the capital of Menorca since the seventeen hundreds, have wide popularity. It is a large town with stunning architecture that offers many sightseeing opportunities. The streets and boulevards hold superb public buildings, churches and monuments. Mahon holidays can be taken from April until the end of October when temperatures rise from twenty to low thirties at the height of the season.
Cheap Holidays To Mahon
We have a selection of cheap Mahon holidays that may tempt those seeking a guarantee of summer sun in a vibrant town from which the rest of the island can be explored. There are bus services and boat trips to other coastal resorts. Holidays in Mahon are ideal for those for whom retail therapy is an essential holiday ingredient. There are boutiques and specialist shops, markets and street vendors selling an enormous range of goods. With accommodation to suit all budgets and restaurants catering for all tastes, our low cost Mahon holidays are in great demand. The town has nightlife to accommodate all moods from romantic restaurants to lively clubs. For a city break in an interesting historical port, choose one of our Mahon holiday offers.
For further details and to find our best Mahon holiday offers, please use the search facility.