Cala n Forcat Holidays
Cala n Forcat Holiday Deals
Sorry, we have no offers to display for this destination.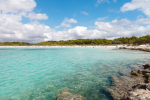 The west coast of Menorca has some startling scenery with a rugged coastline backed by verdant hills.
There are many rocky coves and inlets and those with sandy beaches have become the sites of popular tourist resorts. Purpose-built and therefore lacking in authentic island atmosphere, Cala n Forcat holidays are nevertheless very popular throughout the age groups. There are three resorts that are in such close proximity that they almost become one. It is hard to see where one ends and the next one begins. The advantage of this is that the amenities of each resort are pooled and can be enjoyed by all. If you are looking for a guarantee of summer sun, and to be honest most of us are, a sandy beach and warm clear water,� cheap Cala n Forcat holidays may fit the bill.
Cala n Forcat sits on a long inlet and while the beach is fairly narrow, it is also quite deep. The water is shallow for a long way out so children can paddle in safety and can gain confidence in swimming. The waters teem with tiny fish which children enjoy catching in their nets. The clarity of the water attracts snorkellers.
Where can I Fly from?
Low cost airlines fly from many regional airports and with a fairly short flight, you can be basking in the sun in next to no time.
Cala n Forcat has hotels and apartments that cater for all budgets. Standards are high and service is good. Together with the neighbouring resorts of Los Delphines and Cala n Blanes, there are numerous eateries that cater for even the most pernickety of palates. Many provide full English breakfasts, Sunday lunches and you can even get your Friday night curry. Shops provide for all your holiday needs and being close to the former capital Cuitadella, if a greater choice is required, you can hop on a bus and arrive in a matter of minutes. Nightlife although described as lively by Menorcan standards, is never raucous. There are plenty of bars but no night clubs.
Search today.
�
If you are considering� Cala n Forcat holiday but find the task of trawling through web page after web page looking for the best deals a little onerous, try our simple search facility. You'll find over three dozen travel companies, including leading brands, competing for your custom. It is simple to use, and remember, competition brings out the best bargains. Our search facility enables you to see, at a glance, the Cala n Forcat holiday that is the cheapest, and the one that offers the best value for money. It couldn't be easier. All you have to do to secure the holiday is make a phone call.
As offers change daily, in order to avoid disappointment, you should ring today.