Punta Prima Holidays
Punta Prima Holiday Deals
| Date | All Inclusive | Half Board | Self Cat. | Full Board | B&B | Room Only |
| --- | --- | --- | --- | --- | --- | --- |
| Nov 2023 | - | - | - | - | - | - |
| Dec 2023 | - | - | - | - | - | - |
| Jan 2024 | - | - | - | - | - | - |
| Feb 2024 | - | - | - | - | - | - |
| Mar 2024 | - | - | - | - | - | - |
| Apr 2024 | - | - | - | - | - | - |
| May 2024 | - | €793 | €634 | - | €596 | - |
| Jun 2024 | - | €712 | €599 | - | €544 | - |
| Jul 2024 | - | - | - | - | - | - |
| Aug 2024 | - | - | - | - | - | - |
| Sep 2024 | - | - | - | - | - | - |
| Oct 2024 | - | - | - | - | - | - |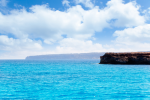 Punta Prima holidays take you to a long-established resort on the south east coast of Menorca, ten kilometres from the principle town, Mahon. Holidays to Punta Prima are very popular with families, especially those with young children as the white sandy beach is washed by clear, shallow waters offering safe conditions for small children. Punta Prima holidays also attract older couples looking for a peaceful resort where they can relax in a guarantee of summer sun. Holidays in Punta Prima can be taken from April until October when the temperature rises from twenty to the low thirties at the height of the season.
Cheap Holidays To Punta Prima
Our range of cheap Punta Prima holidays are considered great value as our commitment to quality and service never wavers. Accommodation is good, restaurants serve a diverse cuisine and although shopping is limited, there is a regular bus service to Mahon with its plethora of shops. Nightlife is low-key reflecting the resort's popularity with families. With plenty of leisure activities and with sightseeing opportunities in the area, our low cost Punta Prima holidays will appeal to many. Since our best Punta Prima holiday offers fly from the shelves, it is best to book early to avoid disappointment.
For further information and to discover our last minute Punta Prima holidays, please use the search facility.