Cala Morell Holidays
Cala Morell Holiday Deals
Sorry, we have no offers to display for this destination.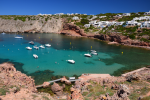 Cala Morell holidays take you to the rugged north coast of Menorca which is an area of great natural beauty and one that sees few of the hundreds of thousands of tourists who visit the island each year. There has been little development in this area so there are no blots on the landscape. It is a resort for those seeking sunshine but who wish avoid the hordes who visit more popular areas. Being so remote, car hire is strongly recommended. Indeed, it is essential.
Cheap Cala Morell holidays.
Low cost airlines with routes to the island serve many regional airports so travel there has never been easier or cheaper. Transfer times from Mahon is sixty minutes or so. Cheap Cala Morell holidays can be enjoyed from April to October� when temperatures range from twenty degrees to the low thirties at the height of summer.
The resort is built around a steep gorge and has a small sandy beach with calm waters, ideal for young children and novice swimmers. There are no hotels and accommodation is provided by villas and apartment blocks. With very limited shops, you need to travel to larger resorts in the north west of the island or to the former capital, the old town of Ciutadella to purchase your goods. With only a couple of bars, entertainment is home made.
Cheap Cala Morell holidays are booked by families and couples looking for an idyllic spot where they can recharge their batteries. Early and late season, when the heat is more temperate, sees an influx of walkers.
Compare holidays today.
If� you fancy a sunny break in Cala Morell but find the thought of trawling through web page after web page looking for the best deal more than a little tedious, try our simple search facility. You'll find over three dozen travel companies, including leading brands, competing for your custom. It is simple to use, and remember, competition brings out the best bargains. Our search facility enables you to see, at a glance, the Cala Morell holiday that is the cheapest, and the one that offers the best value for money. It couldn't be easier. All you have to do to secure the holiday is make a phone call. As offers change daily, in order to avoid disappointment, you should ring today.
�